Ajmer Pushkar Sightseeing Taxi
Starting From

per day
Ajmer Pushkar Sightseeing Taxi is the best-recommended option for traveling in Ajmer & Pushkar in the comfort of cars. Tours and Taxi provides a well-maintained fleet of cars or taxis. There are many amazing sightseeing spots in Ajmer and Pushkar. The Ajmer Sharif Dargah, Taragarh Fort, Maqbara Shaikh Husain, Adhai Din Ka Jhonpda, Akbari Fort & Museum, Anasagar Lake, Rangji Temple, Buland Darwaza, Nasiyan Jain Temple, Nareli Jain Temple, Prithviraj Smarak Monument in Ajmer. Pushkar sightseeing Taxi tour Lord Brahma Temple, Pushkar Lake, Savitri Temple, and many other temples.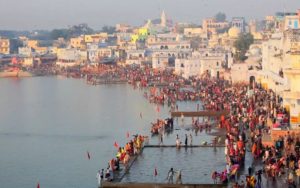 Pushkar shares a small part of the boundary with the Thar Desert and is very famous with Hindus for the only Lord Brahma temple all over the world. Hiring taxi services for Pushkar and Ajmer attractions sightseeing along with best and customized tour packages. Rent a car or cab at the best and affordable price for
Ajmer Pushkar Sightseeing Taxi
from Jaipur. Plan your one-day sightseeing tour to both of these holy places. This is the best way to enjoy your great time in the city. Far away from the city chaos and routine hectic life, you can spend your wonderful day in Ajmer and Pushkar.
Taxi services in Ajmer and Pushkar for:
Pick & Drop to Railway station
Airport transfers
Ajmer and Pushkar sightseeing tour
Local city tour
Thinking of the most luxurious car and travellers with family and friends we provide comfortable, neat, and clean vehicles with a well-mannered driver. Our experienced drivers will also guide you to the places to visit and the best hotels to stay in. Plan your great time in Ajmer and Pushkar.
Tempo Travellers and Cars we have at services are:
9 to 16 Seater Tempo Traveller
SUVs for group sightseeing
Sedan Cars for 4-5 People
We are offering our services for the last 10 Years and our reviews and reputation level can be seen on our website, Social media, and Trip Advisor as well. This package is easily customizable, so you can make modifications according to your preference. Feel free to contact our experts at - +919001366095, +91890547110, or Email: info@toursandtaxi.com
Our Related Sightseeing Taxi Packages -
Jaipur Sightseeing Taxi
|
Bikaner Sightseeing Taxi
|
Jodhpur Sightseeing Taxi
|
Mount Abu Sightseeing
|
Udaipur Sightseeing Tour
|