In Jaipur, which is known as a world heritage city, there is no dearth of historical, religious, archaeological sites. There are dozens of palaces, forts, temples which have their own special significance. Most of the old temples are known all over India and abroad, but among them, the Birla mandir is specially named. In many places in the country, it has been constructed where the pilgrims live, but the Birla temple in Jaipur has many features which give it a unique position in other temples across the country.
This temple, built near Moti Dungri, is dedicated to Lord Sri Narayana and Mother Sri Lakshmi. This temple is made of white marble. The temple is very beautiful and clean. This temple was built in 1988 by the Birla Group of Industries. On the hill near the Birla Mandir lies the Moti Dungri Fort which is a fort built in the Scottish style.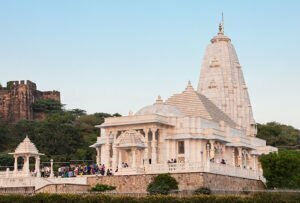 History
The Birla temple in Jaipur was built in 114. The Birla temple is dedicated to Lord Narayana and mother Shri Lakshmi. That is why it is also called the Laxmi Narayan temple. The temple is located near the Moti Dungri in Jaipur. The temple is built of white marble.
The brilliance of the marble blinks the eyes. The temple complex is also very beautiful. It's a white marble lying between the lush green campuses. The temple is a different piercing. Near the temple is also situated the pearl English fort on the hill, which is a famous Scottish fort.
Architecture:
Birla has also a wonderful display of the sculptures installed in the temple. Martika is considered as a unique example of the imagination of royal women and seniority. There are beautiful images of many gods and goddesses along with Vishnu and Lakshmi Ji in the temple. Not only that but also on the outer walls of the temple are depicted a number of great historical figures and religious figures. This among these took Socrates from the Gautam Buddha
This temple was constructed by the Birla group of industries. The most interesting fact related to Birla temple is that land, where a temple has been built, was bought by Birla group, the then Maharaja of Jaipur with a nominal sum of Rs. 1.
Location: Moti Dungri
Timing: – 6:00 AM – 12:00 PM 3:00 PM – 9:00 PM
Entry Fees:  free