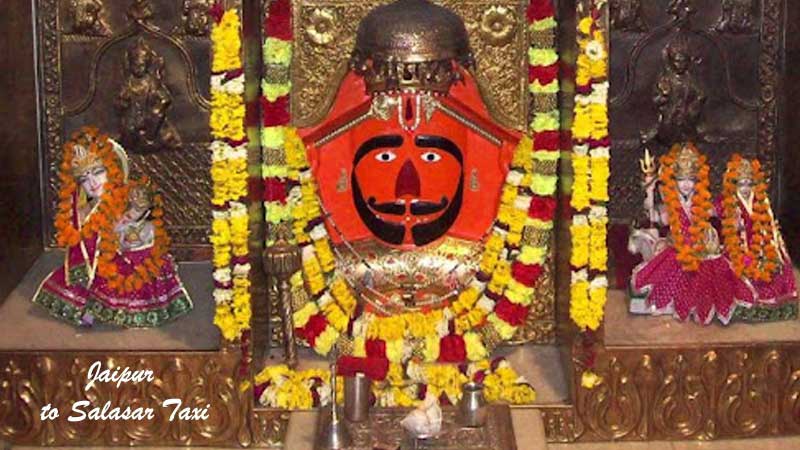 Jaipur to Salasar Taxi
Starting From

per day
Tours and taxi provide the best outstation cabs at the best affordable rates. Among all exclusive taxi rental packages, Jaipur to Salasar Taxi takes you on a comfortable tour to Salasar in the comfort of cars. We have a wide range of cars including suv, sedans, coaches, or tempo traveller. Book any suitable car for traveling from Jaipur to Salasar depending on your needs by using our user-friendly booking process. Hire a taxi and rest assured of getting quality and reliable cab services 24*7. From our exclusive travel services, you can easily book a taxi in just a few clicks and let a road journey goes in a comfortable and hassle-free way.
Distance and Time –
Jaipur to Salasar Taxi
covers approximately 176 kilometers away and takes around 2 to 3 hours to reach there. We ensure you a comfortable ride while taking a halt at your convenience anytime and anywhere for a short break from your journey. The best route to reach Salasar goes via Jaipur – Chomu – Sikar – Nechwa – Salasar.
About Salasar –
Salasar Balaji or Salasar Dham is an ancient temple located in the small town of Salasar near Sujangarh Churu. The temple is dedicated to Lord Hanuman which attractions numerous devotees all around the year. This pilgrimage site is the center of Khatu Shyamji Temple, Rani Sati Dadiji Temple, and Salasar Balaji is located in close proximity. This temple structure is dated back to 1754 AD which is now considered as a Shakti sthal (Place of Power) – which is believed as a place where all the wishes come true. The idol of Lord Hanuman here is deemed to be Swayambhu.
Visiting Salasar Balaji on Chaitra Purnima and Ashvin Purnima will let you experience its divine charm where pilgrims flock to pay homage to the deity. A special fair takes place during these days where a large number of devotees throngs here.
Places to visit near Salasar Balaji Temple –
If you are planning for a Jaipur to Salasar Balaji Trip, you can also visit these amazing places –
Anjani Mata Temple is 1 kilometer away
Laxmangarh Fort is 33 kilometers away
Shekhawati 66 kilometer away
Harsh temple is 76 kilometers away
Sethani ka Johara is 78 kilometers away
Khatu Shyam Ji is 110 kilometer
So, you can plan a temple tour from Jaipur by car and enjoy a leisure journey around by a comfortable vehicle.