MAN MAHAL 
Built to serve as the guest house of Raja Man Singh, Man Mahal Mahal is one of the largest palaces in Pushkar. This palace is one of the most popular tourist destinations in the city.
Man Mahal is a visual treat of the royal period with its grand Rajasthani ar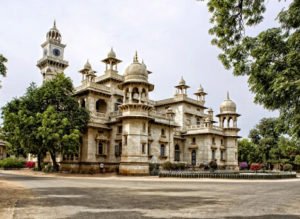 chitectural style. The palace has now been converted into a heritage hotel and is called the RTDC Hotel Sarovar. The palace still retains its old-world charm. The heritage hotel is operated by the Rajasthan Tourism Development Corporation. The palace not only gives you a peek into the era of the past but also provides a great view of the lake and surrounding areas.
The heritage hotel will let you experience the essence of royal hospitality of Rajasthan. Some of the hotel facilities include camping, a camel car ride, Pushkar's cattle fair tors, a Pushkar Lake and a camel ride. The place also offers many recreational facilities including a restaurant, bar, spa and transport facilities.