Udaipur is a place located in Rajasthan – It is famous for its four thousand years old attractive forts and romantic spots. Along with these places, Udaipur is also popular for its old temples. Mansapurna Karni Mata temple is one of them. This temple has its own beauty that attracts onlookers. Main highlights of this temple are its beautiful old sculpted statues and designs. Mansapurna Karni Mata ropeway is a cable ride that joints temple from the ground.
History of Shri Mansapurna Karni Mata Temple
Shri Mansapurna Karni Mata Temple is perched on the Machhala Hill Top and Deendayal Upadhyay Park in Udaipur. In 2008, it was constructed by a business personality Kailash Khandelwal. The project was a collaboration between Kailash Khandelwal and UIT. This temple was built on the height and a ropeway was designed to connect the temple and park. This ropeway is 387 meters long and has a capacity of carrying two people.
Location and Surroundings of Shri Mansapurna Karni Mata Temple
Initially, the cable and trolly setup was called Gondola. In other words, a compartment that travels from the air. This compartment is small and painted in red. Two people can travel from it in one round. 100kg weight is its maximum capacity. Tourists sit inside the trolly and climb down on the hill. Shri Mansapurna Karni Mata Temple is just a few steps away from that place. Then worshippers have to walk to reach the temple. Inside the temple, there is a white stone idol of the goddess Karni Mata. The best part of this mandir is its colourful pillars and ceilings, big halls, and long walls. These things are the main highlights of the temple.
Apart from this temple, the view of the sunset is another reason why this temple is famous among tourists. This is built on a hill and it looks enthralling at the time of sunset. People from several areas visit it only to capture this beautiful sight.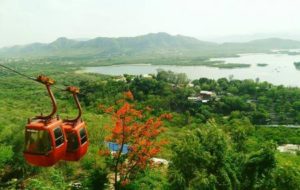 Story of Shri Mansapurna Karni Mata Temple
Karni Mata was born in Charan Caste. She was a warrior sage who dedicated her entire life for the welfare of society. Nari Bai and Shri Karniji Maharaj are two other names of Karni Mata. Karni Mata is an official deity of the royal family of Jodhpur and Bikaner and she considered an incarnation of the Hindu goddess Durga.
According to history, Karni Mata was married to Depoji Charan who lived in Sathika village. Initially, everything was right with her marriage but after some time her inner voice directed her in a different direction. She told her husband that she wishes to walk out of the marriage. He didn't take the news seriously and humoured her with some other things. He expected from her to change her mind but it didn't happen. Rather than listening to her husband, she fixed her husband's marriage with her sister Gulab. Then she dedicated her life to humanity. And after her death, she was worshipped as a goddess. Now, it is believed that Karni Mata holds the powers to fulfil every wish and gives whatever is asked by her followers.
Places to visit near Shri Mansapurna Karni Mata Temple
Karni Mata Temple is located on the hill. Down the hill, there are a lot of places to visit around the temple. Such as-
Doodh Talai Musical Garden
The Musical Garden is located near Shri Mansapurna Karni Mata Temple. In fact, it is the starting point of the temple. You will find this place in front of your eyes if you get down from the Karni Mata Temple. This place is famous for its sunset view and there is a musical fountain flowing in the middle of the garden. And it's another attraction is Dudh Talai Lake.
Nehru Park
If you are a nature lover, then this Garden is heaven for you. It is placed on the lower side of the hill. Climb down from Dudh Talai, take a turn and you will reach Nehru Park.
Best time to visit Shri Mansapurna Karni Mata Temple Early morning or evenings are the best time to visit this place.
Entry Fee and Timings
Indian Adults- 100 Rs
Foreigner Adults- 300 Rs
Indian children below the height of 110 centimetres- 50 Rs
Foreigner children below the height of 110 centimetres- 150 Rs
Timings- 9:00 AM to 9:00 PM (Open All days)