Sitting over the city of Jaipur, Nahargarh Fort is a monumental construction built by Sawai Madho Singh in the 18th century. The fort is situated on the Hills of Eagles. Nahargarh Fort along with Amber Fort and Jaigarh Fort formed a defence around the city. It has an extended wall which connects it to jaigarh and Ganesh temple which is known as" Garh Ganesh". Tourists can come here and enjoy the cafeteria and restaurant located in the premises of the fort.
History of Nahargarh Fort 
The Nahargarh Fort, marked with a plethora of important historical events. This fort was used as a palace in summer. The best part of this fort is that it has never been attacked in the long history of this fort. However, this fort has been the site of major historical events such as signing treaties with Maratha forces in the 18th century. This fort is also known to shelter many Europeans during the Sepoy Mutiny of 1857. In the year 1868, when Rajaswai Ram Singh built a category of palace within the Nahargarh Fort, this palace went through renovations. Films like Nahargarh Fort Rang De Basanti and Shuddh Desi Romance have also been shot.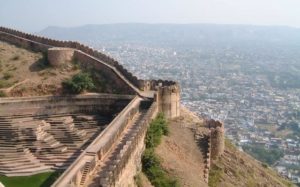 It also has nine more palaces built for queens. All these palaces are interlinked with the Maghvendra palace. The names of these palaces are Suraj Prakash Mahal, Chandra Prakash Mahal, Anand Prakash Mahal, Jawahar Prakash Mahal, Laxmi Prakash Mahal, Ratna Prakash Mahal, Lalit Prakash Mahal, Basant Prakash Mahal and Khushal Prakash Mahal. These rooms were built for the Maharaja's nine wives. These identical rooms are said to be built on three sides of a rectangular courtyard. The Maharaja's room is on the fourth side of the courtyard.
Architecture of Nahargarh Fort 
Nahargarh is a beautiful Indo-European architecture, inside which is a collection of many beautiful structures. When you enter the fort through the entrance called "Tadgit" of this fort, you will find a temple dedicated to Jaipur rulers on the left side. Explain that another temple dedicated to the Rathore prince is located in the premises of this fort. Along with this, you will also see a "Madhavendra Bhavan" built by Sawai Madhosingh in a campus. The structure of this fort is a two-story building which was built for the king and his twelve queens. This fort, divided into nine equal apartments, each has a lobby, bedroom, toilet, kitchen and store. Apart from all this, other attractions of the palace are Diwan-i-Aam where the king used to meet his people and listen to their problems and complaints.
Nahargarh Biological Park 
A complex of attractive structures is also located in the premises of Nahargarh Fort, which is a special attraction of this fort. Spread over an area of ​​7.2 square kilometers of the Nahargarh Sanctuary, the organic park is finely decorated with granite and quartzite rocks. The park is known for its rich flora in which you can see many animals in their natural surroundings. The Asian lion, Bengal tiger and Indian leopard are also found in this organic park. The most special thing is that 285 species of birds are also found in the park which pleases the bird lovers. Nahargarh Zoological is another special tourist center where animals such as the Asiatic lion, Bengal tiger, panther, wolf, deer, hyena, crocodile, Himalayan black bear, sloth bear, wild boar, etc. are found.
Time Entry and Fees: 
 The best time to visit the fort is from October to mid-march.  Opening hours will be like 10 am to 5:30 pm. Entry fees for outsiders are 200 Rs.