SAVITRI TEMPLE
At the top of the Ratnagiri Hills, the Savitri Temple was built in 1687 and is dedicated to Savitri, the abandoned wife of Lord Brahma. It is believed that Devi rested on this hill upon reaching Pushkar. On reaching Pushkar, Devi Savitri is believed to have refused to sit with her husband in the puja organized by her, as she had already married Kanya Gayatri, a local person. The path to reach this temple goes through the hills and it takes about an hour to reach the temple. It is situated at the top of the hills, just behind the temple of Brahma Ji. The temple offers a picturesque view of the lake and a spectacular view of the village.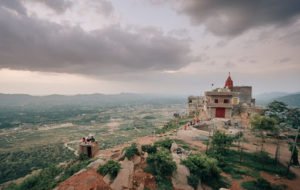 Savitri Temple is located on the Ratnagiri hill in Pushkar city of Rajasthan and is a popular pilgrimage site for Hindus. The temple is dedicated to Goddess Savitri, the consort of Lord Brahma. Savitri Temple is situated at a very high height, due to which the view of Pushkar city and all the surrounding valleys from the temple is quite clear. Let me tell you that although this temple is located just 15 minutes walk from Pushkar Lake, it is very difficult to reach the temple and climb the hilltop. But it is said that the harder you work, the more tapas you get. If you want other information about Savitri Temple, then definitely read this article, here we are going to give you complete information about Savitri Temple.
Timings:
The temple is open on all days of the week from 5 am to 12 pm and 4 pm to 9 pm. There is no entry fee.