Introducing Jaipur is quite difficult because its captivating charisma cannot be expressed by words. The Pink City of India is a great place to travel as Jaipur Tour Package for family for 2 days. The following blog will give you a glimpse of how to plan a wonderful family tour to Jaipur. Continue reading this blog and know everything in detail for how well you can plan 2 days in the city.
Jaipur is absolutely an ideal place to go for a spectacular family trip. Well-known as the beautiful Pink City of India, it is a prominent capital city of Rajasthan. This gives a mind-blowing experience of Rajasthan's rich cultures, traditions, and heart-winning hospitality. Its multitude of heritage charm and historical attractions gives an ultimate experience of the state's enriched beauty. The spell-binding mix of ancient architectural style and authentic charm leaves an observer in awe.
If you have absolutely limited time to travel in Jaipur tour package from Delhi or any other destinations in India, then keep reading this blog. It contains all essential information that you must know for a hassle-free 2 days trip to Jaipur.
Things to cover on Day 1:
Although historical richness is a mainstay of Jaipur Tourism, the city offers a plethora of other experiences. Things like religious sites, astronomical observatories, museums, and gardens are other most amazing attractions in the city. It is recently announced as one of the UNESCO World Heritage Sites in India in 2018 and houses many other heritage sites to explore in Jaipur Sightseeing Tour.
City Palace –
Sits right in the heart of the walled city, the grand City Palace Jaipur was a former seat of Rajas and Maharajas of Jaipur. The amusing royal style of architecture gives the finest introduction of royal grandeur and magnificence. The royal palace boasts an ultimate fusion of Mughal and Rajput styles of architecture. A huge courtyard of the palace comprises many structures of royal residences, gardens, halls, art galleries, and more.
Hawa Mahal –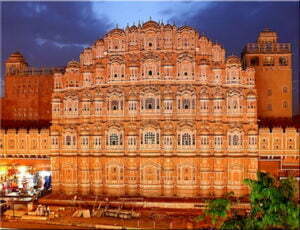 When thinking of Jaipur an image of Hawa Mahal usually represents the city's enriched beauty. It is indeed an iconic landmark of tourism all over India. The only reason behind its construction is to let royal ladies witness the on-road activities without being seen from outside. The palace of winds beholds a grand structure consisting of 953 beautifully carved small windows (known as Jharokhas). Its inspiring honey-comb-like structure enables the breeze to blow into its chambers.
Jantar Mantar –
India's only famous observatory recognized as a UNESCO World Heritage site, Jantar Mantar Jaipur is a major attraction of the city. For those having interest in astronomy, this is a must-visit place during sightseeing in Jaipur. The observatory has its origin in 1734 in Jaipur, built by Maharaja Sawai Jai Singh II. It is featured with the world's largest stone sundial and 19 other astronomical instruments in its complex area.
Albert Hall Museum –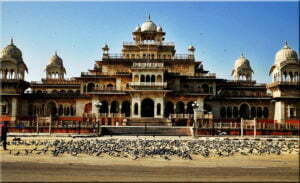 Rajasthan's ancient museum is the Albert Hall Museum that symbolizes the glorious past of Jaipur. It gives a mind-blowing experience of Jaipur's history & heritage. Operating as the State Museum of Rajasthan, Albert Hall Museum showcases an amazing collection of artifacts like sculptures, armory, paintings, crystal works, carpets, and more. The most important highlight of this museum is the Egyptian Mummy that is on the display.
Places of attraction to explore on Day 2:
The second day of your Jaipur Tour Package for family for 2 days can be planned as exploring the grand forts and palaces of the city. So, you must go around to majestic forts and unveil the historical richness preserved by the pink city.
Amer Fort –
A sightseeing tour of the city can't be deemed as complete without exploring the Amer Fort and Palace. The opulent structure of this fortress embodies architectural brilliance and royal splendor. Shadowing the Maota Lake the impressive structure of the castle is located on the Aravali Hills of Rajasthan. Its enormously huge complex is featured with impressive Sheesh Mahal also known as Mirror Palace.
Jaigarh Fort –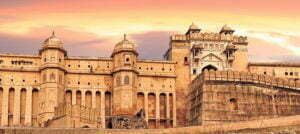 Snuggle atop of the Cheel ka Teela or Hills of Eagles, Jaigarh Fort is one of the most beautiful places to visit in 2 days trip to Jaipur. The grand fort is enclosed with many lavishing palaces with courtrooms, temples, gardens, triple arc getaways, an armory chamber, and a central watchtower that offers spectacular views of the surrounding areas. The main attraction of this fort is a Jaivana cannon which is the largest one in the city.
Nahargarh Fort –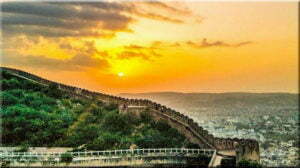 Standing atop of the hill, Nahargarh Fort guards the beautiful city with its grand walls for almost 300 years ago. Today the fortress is one of the major attractions for adventure lovers to get engage in hiking and cycling activities to the Nahargarh Fort. It offers spectacular views of the city and its surrounding areas and serves as a perfect photography spot in Jaipur.
Jal Mahal –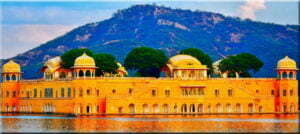 Resting in the middle of Man Sagar Lake, Jal Mahal is also referred to as the Water Palace of Jaipur. The floating lake exhibits the impressive architectural style of Rajputs. It is a great place to enjoy sunrise and sunset views from over the water palace. Formerly, it was a duck-hunting retreat for the royal kings of Jaipur. Entry inside the palace is currently restricted for visitors, instead of which you can enjoy a leisure stroll around the lake.
Jaipur Bazaars –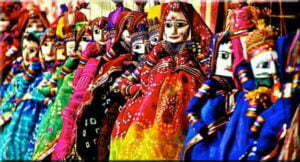 The colourful market lanes of the pink city offer a huge collection of traditional items to shop in the city. Have a soulful shopping experience on the sightseeing tour and buy an exclusive collection of arts and crafts. Buy traditional handicrafts, textiles, brass works, paintings, lac jewellery, blue pottery, and many other things from its bustling bazaars.
Important Information –
| | | | |
| --- | --- | --- | --- |
| Tourist spot | Timings | Entry fee (Indians) | Entry fee (Foreign Nationals) |
| City Palace | 9:30 am to 5:00 pm | ₹ 190 | ₹ 500 |
| Hawa Mahal | 9:00 am to 4:30 pm | ₹ 50 | ₹ 200 |
| Jantar Mantar | 9:30 am to 4:30 pm | ₹ 50 | ₹ 200 |
| Albert Hall Museum | 9:00 am to 5:00 pm | ₹ 20 | ₹ 150 |
| Amer Fort | 10:00 am to 5:00 pm | ₹ 100 | ₹ 550 |
| Jaigarh Fort | 9:00 am to 4:30 pm | ₹ 35 | ₹ 85 |
| Nahargarh Fort | 10:00 am to 5:30 pm | ₹ 50 | ₹ 200 |
| Jal Mahal | 6:00 am to 6:00 pm | No | No |
Conclusion:
Jaipur is completely a treasure trove for explorers of varied interests and preferences. Planning holidays with family in the city will surely bring many exciting travel experiences to the group holidays. Hopefully, after reading this article you have got all the basic details of planning your tour. Have an eventful Jaipur Tour Package for family for 2 days.