Are you a wildlife enthusiast or someone planning a thrilling holiday trip in Rajasthan? If yes, then the exotic wildlife of Rajasthan calls you for an unforgettable journey and holiday experience. With over plethora of wildlife sanctuaries in Rajasthan has made it the best place to plan holidays with family or friends. From the beautiful dry grasslands of the desert to the deciduous forests of Aravali Hills, the varied topography attracts many migratory birds. Witness the rich flora and fauna species while getting around on a jungle safari in a wildlife reserve. When traveling in Rajasthan, one must visit to enjoy a great time amidst the lush greenery and wildlife. Explore these Top 10 Wildlife Sanctuaries in Rajasthan where you can enjoy the wilderness of this beautiful state.
Top 10 Wildlife Sanctuaries in Rajasthan –
1. Darrah Wildlife Sanctuary in Kota –
For wildlife lovers and photographers, the Darrah Wildlife Sanctuary is a perfect way to enjoy an excursion in the wilderness. The wildlife sanctuary was declared a protected reverse in the year 1955. In earlier times, the land was formerly a hunting ground for the Maharajas of Kota. It houses thousands of tigers, rhinos, deer, and many other forest areas in this heaven.
Best time to visit: October to March
2. Kailadevi Wildlife Sanctuary in Karauli –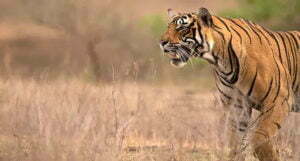 One of the most popular wildlife sanctuaries in Rajasthan, Kailadevi Wildlife Sanctuary was declared as a national park in 1980. The adjacent vast grassland was by default converted into sanctuaries that they are today. The sanctuary serves as an example among environmental for forest preservation resolution. The sanctuary has dry deciduous vegetation throughout except those near the Chambal ravines.
Best time to visit: September to March
3. Ramgarh Vishdhari Wildlife Sanctuary –
The Ramgarh Vishdhari Wildlife Sanctuary is located just 15 kms from Bundi is home to a variety of flora and fauna species. It is a buffer zone for the Ranthambore Wildlife Sanctuary. It houses many wild predators including panthers, tigers, hyenas, antelopes, and wild boars. Also, you can enjoy a jungle safari in the dense forest reserves of mango, dhok, salar, and khair trees.
Best time to visit: September to May
4. Bassi Wildlife Sanctuary in Chittorgarh –
The Bassi Wildlife Sanctuary is stretched over the western border of the Vindhyachal mountains covering a huge area of 15290 hectares. The picturesque grasslands and vivid landscape of the sanctuary are absolutely a delight for nature lovers. Spot a variety of wildlife species like panthers, jackals, hyenas, cheetah, antelopes, mongoose, and wild boars.
Best time to visit: October to February
5. Jaisamand Sanctuary in Udaipur –
The stunning city of hills, valleys, and lakes, Udaipur welcomes you to one of the best wildlife sanctuaries in Rajasthan. The wildlife sanctuary is located on the banks of Dhebar or Jaisamand Lake – the second largest artificial lake in Asia. The 52 sq kilometers roam around the lake and consist of a variety of fauna and flora. Explore the shores that are covered with teak forests langur, chital, crocodile, turtles, and fishes.
Best time to visit: July and August
6. Desert National Sanctuary in Jaisalmer –
Located close to Jaisalmer, this is another major wildlife sanctuary is located in the great Thar desert of Rajasthan. The sanctuary provides an instance of a brilliant desert ecosystem. The landscape is filled with birdlife and desert creatures like Great Indian Bustard, Kestrels, sand grouse, laggard falcons, tawny eagles, vultures, and more.
Best time to visit: October to mid-March.
7. Kumbhalgarh Wildlife Sanctuary in Kumbhalgarh –
One of the best places to visit in Kumbhalgarh Wildlife Sanctuary is located in the district of Rajsamand in Rajasthan. It covers an area of about 578 sq km while surrounding the borders of Kumbhalgarh Fort. You can spot many endangered species like chinkaras, hares, four-horned antelopes, sambhar, nilgai, jungle cats, sloth bears, hyenas, etc.
Best time to visit: October to March
8. Mount Abu Wildlife Sanctuary in Mount Abu –
In the Aravalli Hills, the Mount Abu Wildlife Sanctuary is the most popular in Rajasthan. It has a great collection of trees and plants. One of the best places to visit is Mount Abu, there are about 112 different plant families that belong to 820 unique species. Many wildlife species wander around the sanctuary like mongoose, Indian hares, bears, pangolin, wild boars, etc.
Best time to visit: October to March
9. Tal Chhapar Sanctuary in Churu –
Do you want to explore the grasslands in the heart of the Thar desert? Hopefully, the Tal Chhapar Sanctuary is the best to explore in this place. Located in the Shekhawati region of Churu, the sanctuary has biodiversity where you can spot desert cats, chinkara, and migratory birds from Siberia. When traveling Jaipur to Churu, you can visit Tal Chhapar Sanctuary in Churu.
Best time to visit: November to February
10. Sita Mata Wildlife Sanctuary in Pratapgarh –
Spread across to an area of 423 sq km, Sita Mata Sanctuary is a protected area and also one of the most important wildlife sanctuaries. The rivers Budho, Tankiya, Karmoi, Sita Mata, and Jakham flow through the woods of the sanctuary. It is a famous bird paradise to visit on a holiday in Rajasthan.
Best time to visit: October to June
Rajasthan is all known as the land of kings and is famous for its rich history. It remains to allure tourists all around the year. It is an ideal place for all kinds of travel enthusiasts. If you are planning a holiday in Rajasthan, then winters are the best time to do it. Spend your great time in Rajasthan and enjoy your leisure time away from the hustle-bustle, amid the wildlife.
Also read –
39 places to visit in Jaisalmer 2020
Rajasthan Travel Tips: 10 Useful Things One Must Remember Before Visiting the State!
Mount Abu An Accredited Destination of Rajasthan
Top things to do in Bundi that will level up your holidays