I adored my time in Rajasthan desert-filled state. I think it is best to focus exactly on that and make today's post all about the things that made me fall in love with the Land of Kings i.e. Rajasthan India. I don't know about you but I delayed travelling to north India for years due to the reason that I was intimidated. I had read dozens of horror stories from women who had experienced terrible times.
I was eager to experience India for myself that I was fearful it would be a disaster. I thought I had to be groped and hassled at the end up losing my mind from the noise and pollution. Everyone seems to find themselves in a love-hate relationship with India. I was more nervous over what would comprise the hate parts of the trip.
Rajasthan is the best place to visit in India and many other cities across Rajasthan is more colorful
When I think of my time in the Rajasthan, I think of the colorful cities. All of the major cities in the state are painted different shades of colors and it is wonderful for taking photos. Jaipur is the Pink City, Jodhpur is the Blue City, Udaipur and Pushkar are the White Cities, Jaisalmer is the Golden City, and Bikaner is the Red City. In my terms, Jodhpur was the most photogenic city for me with Jaisalmer coming at a close to second. If you love color and vibrance when you travel Rajasthan is the place to go to it.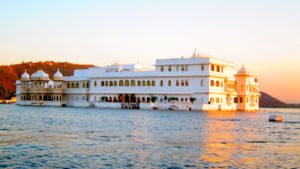 If Rajasthan was a country then it is one where you had been told you need a minimum of a month to see it all. It impressed me that how many countries are there where you can spend a full month travelling around one region and feel as though everything you visited was one of the most incredible sights of your life, it is only the Rajasthan city in India. I spent around a week in this desert state and still came away with a long list of the places. I had skipped over and my friends saw a lot of it. I spent more time in Jaipur, Abhaneri, Bundi, Kota, Pushkar, Chittorgarh, Kumbhalgarh, Ranakpur, Udaipur, Jodhpur, and Jaisalmer. I saw a huge amount of the state and yet it goes.
I didn't take a safari to see the wild Bengal tigers at Ranthambore National Park. I didn't get to spend time hiking around the Rajasthan only hill station at Mount Abu. I didn't see the infamous rat temple in the Bikaner. I didn't spend time bird-watching at the Bharatpur Bird Sanctuary. I didn't have time to see the famous paintings in the Shekhawati region. I didn't spend more than half an hour in Ajmer. The list goes on.
You could spend an entire month in the Rajasthan and you can see nothing but amazing attractions and monuments and still feel as though you have not seen it all. I know that after my fast-paced three weeks in the state, I'm still eager to return.
Rajasthan is known for its ancient hill forts that are towering over bustling cities and expansive landscapes.
Six have UNESCO World Heritage Site designation that is: Chittorgarh, Kumbhalgarh, Sawai Madhopur, Jhalawar, Jaipur, and Jaisalmer. It is not hard to see why. Every one of them had something new and awe-inspiring to offer up and many of them required several hours to explore.
I think the most impressive for me was sprawling Chittorgarh as it was the largest fort in the country and I was so happy that I made the effort to take a day trip from Udaipur just to see it. I also loved walking around Mehrangarh in Jodhpur. You will be admiring the views from Jaisalmer Fort, marvelling at crumbling Taragarh in Bundi, and spending time at Kumbhalgarh which is home to the second-largest wall after the Great Wall of China.
I thought I would get fort-ed out from Rajasthan just as I get temple-fatigued in Thailand but it just didn't happen. The forts were so impressive that Dave and I managed to have a solid hour-long discussion over which one was our favourite. It had only narrowed it down to five by the end of it. Rajasthan is known as the Land of Kings and there are so many royal palaces to have a wander around. The architecture in these buildings was often extraordinary, filled with stained-glass windows, extravagant rooms, and breathtaking views. Udaipur's City Palace was my favourite place that I like the most in Rajasthan. You will be enjoying the Rajasthan with good looks that you remember will do.