Udaipur, also known as Lake City is located on the eastern banks of Pichola Lake. This place is a fusion of Rajasthani, European, Chinese and Mughal architecture. It is a beautiful city and people come here to enjoy its weather and surroundings. The best part of Udaipur is its lakes, monuments, and temples. Among all these places, Jagmandir stands differently as it is positioned in the middle of Lake Pichola. Found on the southern side of the lake, this palace is known as Jagmandir or Jag Island. Based on the blue water ripples, Jagmandir is an impressive structure that is explored by tourists in large numbers.
History of Jag Mandir
Jag Mandir is a contemporary and classic mandir. It was constructed by three Maharanas who were Rajputs of the Mewar kingdom. Jagmandir has its own interesting history as well as a fabulous story that includes Mughal emperor Shahjahan. In 1623, Prince Khurram, son of Shahjahan, stood against his father to occupy the throne. During the battle, Prince Khurram sought help in Udaipur. At that time, the city was ruled by Maharana Karan Singh. He agreed to help Prince Khurram and allowed him to stay in City Palace with his wife and two sons. Then after some time, he moved them into Gul Mahal as it was a safe place to leave due to its wavy surroundings.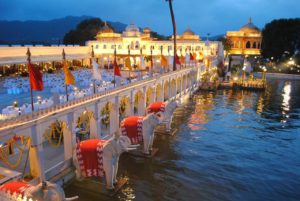 He stayed there for several years and the incident left a huge impact on his heart and he got inspired by it. Later, after becoming Emperor Shah Jahan, he built the seventh wonder of the world, Taj Mahal. Then in the 17th century, Maharana Jagat Singh completed its construction and named it Jag Mandir. At first, its name was Jagmandir Island. Later it was changed to Jag Mandir. It was also a refugee palace in the revolt of 1857.
Location and Surroundings of Jag Mandir Palace
Jag mandir palace has three eye-catcher structures. All of them are so attractive that you cannot even compare them to each other.
Gul Mahal
Gul Mahal complex is one of the most attractive structures of Jag mandir. The first structure was built in 1551, at the time of Maharana Amar Singh. Then Maharana Jagat Singh developed the structure during his time and Prince Khurram was offered shelter in the Gul Mahal. Gul Mahal has a beautifully shaped structure and it is built with yellow sandstone and a crescent of Islam is fixed on the top of it. It is divided into three parts of chambers of the circular apartments. They all are made of white and black marbles. This mahal is similar to the Islamic style of architecture. The best and the most attractive parts of the palace are murals and marble engraved paintings. This art is rare and treasured in Rajasthani architecture. There is a mosque inside the palace where Prince Khurram used to offer his prayers.
Jag Mandir
Jag mandir palace is famous for Gul Mahal's structure. Inside the palace, there is a huge hall designed in the style of Rajput architecture. The conners of this palace are topped with octagonal shape towers. The royal ladies chamber and crown prince 'Kunwar Pada ka Mahal' are some other attractive parts of the palace.
Palace of the Twelve Stones
Palace of the Twelve Stones or better known as Bara Patharon ka Mahal is the third main part of the palace. This particular structure is built with twelve solid marble slabs. And this design is its speciality. Along with these parts, Darikhana, an open-sided terrace and restaurant, museum, pavilion at the entry gate, Garden Courtyard, are some other spots of the palace.
Best time to Visit Jag Mandir
October to March is considered as the best time to visit Jag Mandir. Avoid visiting it in summer to ignore the burning heat of the sun.
Entry Fee and Timings
No Entry Fee
Though there is no entry fee but the boat ride to from City Palace to Jag Mandir will cost you Rs 450 per person. At the time of the evening, after 3:00 p.m. the ticket cost for the boat ride is Rs. 700 per person.
Timings- 10:00 am to 6:00 pm (open all days of the week)