Probably someone said it right, 'A lake is the landscape's most beautiful and expressive feature. It is earth's eye; looking into which the beholder measures the depth of his own nature.' Indeed truth, a lake is like an earth's eye. It peeks into your soul as it is an expressive feature. Udaipur, the city of Lakes is full of such expressive features and Lake Pichola is one of them. Lake Pichola is a beautiful artificial lake and one of the most famous tourist attractions in Udaipur.
History of Lake Pichola
Lake Pichola was built in 1362 AD by a Pichu Banjaras who used to transport grains during the time of Maharana Lakha. Then after a decade, the blue water waves, scenic and mesmerising views of the lake hypnotized Maharana Udai Singh. And he decided to establish the city on the bank of this lake. Multiple ghats, bridges, temples, islands, places, mansions were constructed to enhance the beauty of the lake. And then, in the end, Lake Pichola was named after the Pichu Banjara tribes.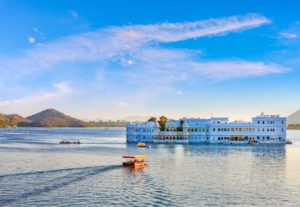 Location and Surroundings of Lake Pichola
Spread 3 miles in length and 2 miles in width, Lake Pichola is 30 feet deep-rooted in water and mostly surrounded by islands, palaces, temples, mansions, ghats and restaurants. But its main attractions are four islands- Jag Niwas, Jag Mandir, Mohan Mandir and Arsi Vilas.
Apart from these places, this lake offers enchanting views of sunrise and sunset.
Things to do at Lake Pichola
Boating is the main entertaining and adventurous thing to do at Lake Pichola and the sunset boating is cherry on the cake. People go for a round of the Lake just to enjoy the view of the sunset because this Lake is surrounded by so many palaces and hills. So these surroundings make the view enchanting. And for most tourists, pristine blue water ripples appear ethereal at evenfall.
Photography is another entertaining and fun activity you can do at the lake. This lake has an awesome and beautiful background. Many people visit the lake only to click a few perfect snaps. However, photography is allowed in most of the areas but some areas do charge money for the camera. Though, the sum is quite affordable so you can take your camera to capture the natural beauty of the lake and its scenic backdrop. The traditional photoshoot is another option you have in your hands. On the bank of Pichola, you will find so many photographers carrying traditional Rajasthani costumes and jewellery. You can also prefer this photo shoot to make your visit memorable.
Places to Visit Near Lake Pichola:
Lake Pichola is spread around so many beautiful places. You can explore to get a better experience.
Lake Palace- Lake Palace and also known as Pichola Palace or Jag Nivas is one of the most famous attractions of Lake Pichola. Sitting in the middle of the blue water, this palace possesses stained glass motifs, fountains and parks and architectural beauty.
Jagdish Mandir- Udaipur is popular for ancient Indian Temples and Jagdish Mandir is one of them. It is a Hindu temple and an architectural marvel designed in Indo Aryan style. Apart from its design, engraved pillars ceilings, lush halls, and walls are the highlights of the temple.
Ambrai Ghat- Impeccably located on the bank of Pichola near Jagdish temple, Ambrai Ghat is the riverfront. That provides a meticulous view of Lake Pichola, palaces, heritage hotels and nature. And its majestic surroundings adds further grandeur in it. Along with these places, you can also sojourn at City Palace, Jag Mandir, Mohan Mandir, Arsi Vilas Swaroop Sagar Bridge, Ghanghor Ghat, Mansions, Havelis, and Chabutaro. All of them share a similar location.
Best Time to Visit Lake Pichola
The evening is the best time to visit Lake Pichola as the view of the sunset is truly mesmerising. Monsoon and Winters are considered perfect seasons to visit the lake. Avoid visiting it in hot summers otherwise, the scorching heat of the city will grill your body.
Lake Pichola Entry Fee and Timings
There is no entry fee to visit Lake Pichola.
Boat Ride Prices:
Daytime boat ride- Rs. 400 for Adults and Rs. 200 for Children.
Sunset boat ride- Rs.700 for Adults and Rs.400 for children.
Boating Timings- 10:00 am to 5:00 pm on all days of the week.