Udaipur is known for its cultural heritage and architecture. Situated in the Rajwada estate, it is a pioneer in displaying the best craftsmanship the world has ever seen in history. And Sajjangarh Palace better known as Monsoon Palace adds a good amount of onlookers and tourists in Lake City's bucket. It echoes the enchantment of the rituals and ceremonies of great Indian culture and festivities.
History of Sajjangarh Palace
Constructed in 1884, Sajjangarh Palace was a residence of Maharana Sajjan Singh. Maharana Sajjan Singh started building this Palace at Bandara Peak of Aravalli. According to the plan, this palace was supposed to be a nine-storey building but the sudden and unexpected death of the king hindered its construction. Later, king's successor Maharana Fateh Singh completed it. Firstly, this palace was the Royal family's hunting lodge. The palace was so enchanting that one could watch the monsoon clouds from it. And that's the reason why it was also named Monsoon Palace.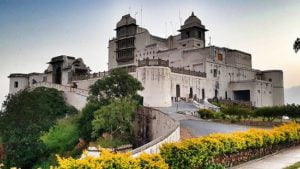 Location and Surroundings of Sajjangarh Palace:
Sajjangarh Palace is perched on the high Aravalli Hills, it is settled on so much height that the places of fort glitter like a star from the rocky hills. The foundation of the fort is based on marble pillars. It is a huge fort with domes sitting at the top, touching the clouds. The palace walls are painted with lime mortar. Its marble pillars are craved with exquisite motifs of leaves and flowers. Inside the palace, there is a grand central court, staircase, many rooms, quarters, fountain and jharokhas. All of them showcases Rajasthani culture and architecture. The ground floor is converted into a museum, with a collection of pictures, paintings and maps. One of the most beautiful thing about this palace is that the entire palace is illuminated in the evening. It appears more beautiful at the time of sunset and sunrise. Visitors pool here for these type of fantastic views.
Things to do at Sajjangarh Palace
Watching Sunset
The sunset point is one of the most attractive sights of the Palace. Watching the sun setting behind the hills is riveting and enthralling. The surroundings of this palace are so mesmerising that it often hypnotise the onlookers. And the atmosphere is so pleasant, here people feel relaxed and refreshed.
Photography
Photography is another attractive part. Here, you can capture things for fun. This palace has a beautiful background and scenery. People come here just to click snaps. Here angle meets a perfect posture and enhances the beauty of the photograph.
Places to visit near Sajjangarh Palace :
Sajjangarh Wild Life Sanctuary
To explore more, step out of the palace as there is a biological park just beneath the palace known as Sajjangarh Wild Life Sanctuary. This biological park is an abode of many rare species animals such as chitals, panthers, hares, blue bulls (Nilgais), jackals, wild boars, hyenas, and sambhars. And it also has a great collection of birds and reptiles.
A temple of Lord Shiva is found near the Jhar Water Hole, and this temple is surrounded by Mahua trees. There is a rock-solid wall of Kishan Pol which protects the sanctuary. There is an artificial lake named Jiyan or Tiger flowing inside the sanctuary. These sanctuaries are open for the public can be visited for exploring wildlife. It's a must-visit place of Lake city as a tourist and even as a resident. Apart from Sajjangarh Wild Life Sanctuary tourists can also stop at Arsi Vilas, Lake Pichola, Jag Mandir, Chunda Palace Café and Restaurant, Sanjay Gandhi Park, Bara Palace, Brahampole Gate, Gangaur ghat etc. All these places are just a few kilometres away from Sajjangarh Palace.
Best time to visit Sajjangarh Palace:
Monsoon season between the months of August and October are considered the best time to visit this palace as the dark clouds enhance the beauty of the palace.
Entry fee and Timings
Indians- 10 rs per person
Foreigners- 80 rs per person
Camera- 20 rs
Timings- 8:00 a.m. to 6:00 p.m.
Sajjangarh Biological Park Udaipur Entry fee and Timings
Indian- 30 rs per person
Foreigners- 300 rs per person
School students- 15 rs per student (ID Card compulsory)
Golf car- 50 rs
Electric car- 80 rs
Video camera- 200 rs
Timings- 9:00 a.m. to 4:30 p.m. and closed on Tuesday