You can make your trip comfortable and memorable Bikaner offers you a complete package with comfortable accommodation in different hotels ranging from Bikaner. Bikaner is known as the camel city of Rajasthan and apart from many tourist places that is enough to increase your excitement during your Bikaner tour. The eye-catching tourist spots in Bikaner attract tourist from all over the world. It offers tourists to see not only the regal forts and palaces along with other important heritage destinations. It also welcomes tourist to get royal accommodation option served by Bikaner heritage hotels.
The attractive sight which entices the eagerness of the tourists is a different view of many dunes. Its cultural stability, many spiritual temples, camel races, desert safari and camel dancing competitions are other significant features that increase its importance on the tourist map. You will get different accommodation options. You can experience staying in Bikaner heritage hotel which is one of the amazing options, every tourist should never miss. These Bikaner heritage hotels offer you all modern amenities along with the royal experience of Maharajas.
Here we share some of the top tips that things to see and do:
1. Junagarh Fort:
This fort was constructed between 1587 and 1593 by Rai Singh. Raj is the third ruler of Bikaner. It is a 986-metre-long sandstone wall studded with 37 bastions and a moat, the fort has never been conquered. Junagarh Fort remains in excellent condition for that reason. It is the stunning palaces, temples and pavilions built by the successive rulers over the centuries though retain a harmonious architectural style.
The most impressive room is the Anoop Mahal which dates back to 1690 and served as Maharaja Anoop Singh's Hall of Private Audience in this fort. Maharaja Surat Singh richly embellished in the late-18th century with mirror work and gold leaf. Our favourite room in the Junagarh Fort is the Badal Mahal. It is adorned with beautiful hand-painted clouds and scenes of rainstorms which is a rare occurrence in this desert land. You can add impressive rooms include the Hawa Mahal where a huge mirror over the Maharaja's bed allowed him to keep tabs on the activities in the courtyard below. The Lal Niwas dating back to the mid-16th century is the oldest part of Junagarh Fort. The Durbar Niwas which was built in the 20th century is the newest.
2. National Camel Research Centre (aka Camel Farm):
The Camel Farm is a must for animal lovers but it is an enjoyable stop for anyone as a change of scenery. It was set up in 1975 and this government initiative is the only one of its kind in India.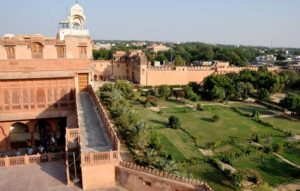 230 camels of four different breeds are reared here and experiments conducted regularly. In recent years the centre has discovered a medicinal use for camel milk in the treatment of diabetes. The camels don't live all the time though and after completing their farm work at their respective villages, they come here to the research centre for the remainder of the day. Farmers loan their camels for free and in return, their camels are well fed they received proper veterinary care. All kinds of camels can be found here from one-day-old babies to army retirees.
3. Karni Mata Temple (The Rat Temple):
Not for the faint-hearted but superbly intriguing nonetheless, the Karni Mata Temple rests on the outskirts of Bikaner. It dates to the 17th century, mainly known as the 'Rat Temple' due to the swarms of rats that scuttle here.
They are considered to be reincarnated holy men and hence we are treated with much reverence. It is thought that as very lucky if you spot a white rat amongst the thousands of black ones.
If you have accidentally killed a rat here and you will be expected to replace it with solid silver. The temple is drenched in legend and its history all of which can be explained by our experienced local Bikaneri guide.
Conclusion: –
It is a well-known camel city of Rajasthan, you will get enjoy this Bikaner place.